If you are a regular reader of this blog, you know that I am all about reversing fatty liver the natural way. I managed to reverse my fatty liver naturally by changing what I ate and how I lived my life.
The best news is that I am still following the same principles today because I love this new way of living and eating and I feel better than never. It's a lifestyle change that will fully heal you.
But I am also always looking at new potential ways to help those suffering from NAFLD reverse their condition as fast and easy as possible.
I am putting a lot of effort into this blog as you probably know – and you have amazing information here that will help you a lot in reversing your fatty liver.
But sometimes it's better to have a book or a program to follow – some of us are still used with this type of reading more than searching through hundreds of posts on a blog.
Today I am recommending something that's easy to read, something that's easy to navigate and something that's been tested and is known to work. The program that I am recommending today is the Fatty Liver Solution.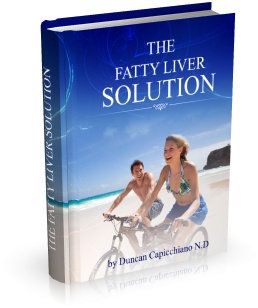 Fatty Liver Solution Review
Fatty Liver Solution is a complete fatty liver reversing program written by Australian doctor Duncan Capicchiano.
What I love about it is the fact that it helps you reverse your fatty liver the natural way, exactly as I did it and how I recommend it to be done: by eating healthy, by choosing the correct foods and by introducing exercise to your life.
This is the best approach when it comes to healing fatty liver and that's exactly what you are told to do. And guided step by step on how to make all the right choices.
Here is a list of the most important things you will find in the Fatty Liver Solution:
– a complete and well detailed Fatty Liver Diet that will guide you through your quest of reversing fatty liver. You'll know what to eat, what not to eat and how to eat. All natural ingredients that will not feel like "dieting" but just eating to feel well.
– an impressive "Secret Healing Shake" recipe for detoxing your fatty liver, as well as details on juicing – should opt to try this method as well (I didn't and I think it can be easily done even without juicing, but many have used it with great effects)
I am personally against juicing and any extremely intense and hardcore approaches to healing – but for some, this is exactly what needs to be done. If you have the will to go through this more extreme way, you will probably reverse your fatty liver even faster.
But even if you opt against it (as I did), you still have a really useful resource here with the Fatty Liver Solution and all the advice it offers.
– The unique Step-by-Step program that that effectively treats and reverses Fatty Liver Disease. This is the easiest way to approach your problem, especially if you have a tough time organizing everything: just follow all the steps and you're done!
– Easy, fun, and gentle ways to integrate exercise into your life. This way, you won't feel overwhelmed and burn out days of weeks after starting.
– plus much, much more.
Basically, in this book (or course – you can call it whatever you want) you have everything you need to know about fatty liver, its causes and symptoms, but also the most important thing: how to reverse it naturally.
You will be guided through all the steps that you need to take and the writing is concise and easy to follow. You will have no problems understanding this book and following its principles, learning how to reverse your condition as fast as possible.
It is a bit expensive, but if you follow my link (click here to visit), you can get it for a highly discounted price: more than 50% off!
It is still not the cheapest thing around, but consider this: a visit to the doctor would cost you more than than and you won't have all the incredible information you get from the Fatty Liver Solution.
There are many things you can spend that amount of money on which won't be as useful.
Plus, the most important thing of them all: your health is definitely worth more than the one time amount you have to pay for the Fatty Liver Solution. You will save a ton in the long run since you will avoid visits to the doctor, bills for medicine and other health-related extra costs.
Also, the program comes with a 100% money back guarantee and you are entitled to ask for a refund if you're not satisfied with the results for 60 days after the purchase has been made. It's safe and there are no risks involved! On the contrary!
You will have enough time in these first 60 days to test the recommended diet and principles and I am 100% sure that you will be satisfied with the results. You might not reverse your fatty liver that fast (it took me 1.5 years), but you will definitely feel better and know you are on the right track.
So click here to check it out and find out more about the Fatty Liver Solution. My recommendation? Take advantage of this offer and make it easier for you to reverse your fatty liver using this program!
But if you don't have the money to spend, don't worry to much: you can find a lot of useful information on this blog for free and you can still do it!