One of the most important steps that you should take in your quest to reverse fatty liver disease is changing your diet. This is what helped me cure my fatty liver and I will share with you the exact things I ate in today's article.
Although there is a general consensus regarding the foods to avoid when you have a fatty liver, there is no magic pill that cures it.
There is no medication approved for curing fatty liver, so it's up for you to do it through dietary and lifestyle changes.
Many doctors recommend Milk Thistle (affiliate link) which rarely has side effects – if any – and is considered by many to help the liver. I took it and it seemed to help, or at least do no harm.
But based on my own experience in reversing fatty liver as well as talks with other people who did it and also after tons of research, I came to the conclusion that the most important thing for you to reverse it is following the best fatty liver diet.
IMPORTANT: This is an EPIC, free article that I have created. It took me a couple of weeks to write it and I've been updating it constantly since I initially published it almost 10 years ago.
In other words, I've put int a TON of work and I can only hope that you will read through it and put it to good use to reverse your condition. It's possible!
Choosing the best diet for fatty liver
The diet that I have followed to reverse my fatty liver and which worked for many other people I have recommended it to is a slightly modified version of the Mediterranean diet.
This is a diet that many doctors recommend as well as the best diet for reversing fatty liver disease. I repeat, this is the diet I have followed to reverse my condition.
To be completely honest with you, I am 100% sure that when it comes to reversing fatty liver, there are multiple approaches and diets/ways of eating that work just as well.
Eating healthy is the most important part of the equation and it doesn't really matter how you call your way of eating as long as you eat clean and healthy.
But it's a lot easier to follow some clear guidelines and this is exactly what I plan to chalk out below.
One thing is clear: after being diagnosed with a fatty liver, you need to make some (probably) drastic lifestyle changes and changing your diet is the most important of them all.
And here is where the confusion begins: if you will look over the internet, read books or even ask people around, you will find that everybody seems to have a different opinion on what works and what you should do.
In my case, after spending tens of hours reading internet pages regarding diets for NAFLD, immediately after being diagnosed, things were not very clear. Here is what I found:
– most people recommend a low fat diet. This is probably the common element of most diets and the thing that makes a lot of sense: if you have too much fat in your body, you should stop adding extra, right?
– others swear that you should only follow a low carb diet like Keto and not care about fat: carbs are sugar, sugar turns to fat, fat is bad for your body. Which also makes sense.
– In other words, you have all possible options covered: some claim that a low fat, low carb diet works best; some say that a low fat, high carb diet works best; there are people that claim that a high fat, low carb diet is actually what you need…
So the more you look and the more you read about the perfect fatty liver diet, the more confused you can get as every person has their own side of the story.
I sure did get confused at first and I was kind of shocked to hear a friend having the same problem say to me: "Well, choose one and hope you made the right choice!"
I couldn't risk it with my life, so I kept researching even more. I started to compare the fatty liver diets out there, I started to write down common elements, I started to note the things that they did completely different and I started to look into those things as well, from the perspective of a healthy person. Then I did more research.
Understanding a diet as a whole and finding the best possible one for a human being (not necessarily one with a fatty liver) was actually my goal and in the end I came up with my own version of the perfect fatty liver diet: the (slightly modified) Mediterranean Diet.
When doing research, you should really read between the lines. Many people who are recommending a diet or another actually don't have a fatty liver and never had one – and even fewer reversed theirs.
They don't really understand all the implications, they haven't tested it. But this diet that I am recommending (and MANY other people, including liver specialists are recommending it!) has been tried and tested by yours truly and it worked.
Other people that I have recommended it to followed it and reversed their condition.
I am confident that it was the most important factor in reversing my fatty liver!
My Modified Mediterranean Diet – Best for Fatty Liver
I don't claim to have it, but common sense and all the hours of reading and learning made me realize that there's one diet out there, available for thousands of years, that works best when it comes to healing your liver. So my answer is: The Mediterranean Diet.
Or, better said, a common sense, modified version of the Mediterranean Diet, slightly adjusted to make it safer for those who have NAFLD.
This diet is considered by many the best diet for a fatty liver and it surely helps with your overall state of health, being considered an extremely healthy diet for the heart as well.
I have the full details below, but you can read over on Oldways about this diet and check out a visual representation of the Mediterranean diet pyramid, showing you exactly what to eat and how often to eat those foods – and there are many other liver specialists out there considering it the best possible approach.
Of course, I didn't take everything for granted and I made some small changes based on my personal eating habits and foods that I have easier access to.
I also cut down a bit the consumption of fish and seafood because I don't really like them (but you shouldn't, since these are healthy foods).
There is also alcohol consumption accepted by the Mediterranean diet – a bit of wine in moderation won't be bad for a healthy individual – but those with fatty liver must stop drinking alcohol, so we're cutting it off the list entirely.
Have in mind that while extremely healthy, the Mediterranean Diet without modifications is just a healthy way of eating and living, but not aimed directly at curing NAFLD.
So you will need to consider some small but important additional things that I will cover below.
With everything I wrote above in mind, here is the approach that I took and helped me reverse my fatty liver. This is basically the best fatty liver diet that I wholeheartedly recommend.
Here is what, how and how much to eat to help your liver heal
1. Fruits and vegetables
These two should be the things that you consume the most of, with vegetables being the bulk of your meals.
Eat as many as you want and eat them raw, boiled, steamed, baked (without any added fat) or grilled.
These things should make up most of your food intake. I am not including potatoes on this list, nor sweet corn – these two are not top choice foods for fatty liver and should be consumed in moderation.
Many people say that you should stay away from very sweet fruits like bananas, grapes, melons and so on. I didn't – I ate a lot of fruits and vegetables and still reversed my condition.
Of course, you shouldn't eat pounds of bananas each day: eat everything in moderation and you should have no problem.
You can read my detailed guide on fruits to eat here after you're done with this article.
2. Legumes
Beans, lentils, peas are also safe and can be consumed in high quantities, but not on a daily basis.
These go great as side dishes and will provide you with the necessary fibers and minerals our body needs, all for a small amount of calories and usually no fats.
Make sure to have legumes become a staple of your diet, following vegetables and fruits.
3. Nuts and seeds
I usually use them as one of my snacks throughout the day, but don't eat too much as they are high in calories and fat (healthy fat, though – so nothing to really worry about).
But since we need to reduce calories intake, we have to eat just a small amount of nuts and seeds, especially if weight loss is needed.
Choose your favorite nuts and/or seeds, anything goes: peanuts, cashews, walnuts, almonds, Macadamia nuts, pistachio, sunflower seeds, pumpkin seeds… anything you can think of can be used.
Just keep portions under control as they pack a huge caloric punch and make sure to eat them raw or baked without any added oils.
4. Dairy products
These are also consumed multiple times per week, but with caution and cutting some items off this list. I never eat butter or any other high fat cheese, sour cream or full fat yogurt.
Only drink low fat milk, yogurt and cheese, but not in large quantities. Make sure that there is no added sugar in the low fat version, nor any other chemicals or additives in your dairy – this is very important!
To learn more about the full fat and low fat dairy products (and why some of the things you might consider true are wrong), you can check my in-depth article here.
There are many people who decide to stay away from all dairy products, and that is completely fine as well.
I decided not to do it and consumed them in moderation and had no problem reversing my fatty liver.
But if you can live without milk and yogurt (and small amounts of cheese every now and then), it won't be more difficult for you to get your health back.
5. Low fat meat
It can be consumed a few times per week. Only go for low fat meat like chicken breasts (skinless) or turkey breast and anything low in fat. Eat fish mostly, avoiding red, high fat meat as much as possible.
When I eat meat, I go for the leanest possible part and the portion is not larger than a regular adult's hand.
If you enjoy eating fish and seafood, you can consume it more often, even on a daily basis. Grill it or boil it, never fry it!
This is actually an important rule to follow with this diet: never fry anything, never cook with extra oil. Keep your food as healthy as possible if you want to reverse your fatty liver!
Eating tips & other foods to consider
Here are some other important things to have in mind when it comes to making this fatty liver diet work for you:
– Cook your own food. One of the most important aspects here, because you can easily reduce the amount of fat used and completely eliminate added sugars and other chemicals / additives, which are just as bad.
I only use extra virgin olive oil and very small amounts of it, mostly for salads. Combine it with Apple Cider Vinegar, which is also considered great for NAFLD and you have a perfect, healthy dressing instantly available.
I cook most of the other dishes without using any oil or any kind of fat, or adding just a bit when the cooking's almost over.
After just a few days you will get used to eating everything without the added oil and you will find out that most foods still taste delicious! And if you're still wondering what oil to use, read my article here.
Paying attention to HOW you cook your food is extremely important. Simply cooking your food at home – but using a lot of the bad stuff you shouldn't, frying ingredients and adding sugars and other baddies won't give you any benefits.
– Bread is something I still consume on a daily basis, unfortunately, but I have greatly reduced the number of slices and increased the quality.
This means that I never eat white flour bread anymore, and instead I go for whole grains bread.
Rye bread is the best choice for fatty liver, but if you can't really get used with the slightly bitter taste, whole grain is good too.
I have also started to experiment with various bread replacements, like keto breads which are really goo. You should read more about them in my article if you haven't done so already.
Ideally, you should cut bread completely off your diet. If you are like me and simply can't do it, try to eat a maximum of 2 slices of healthy, whole-wheat bread (without added sugar or other chemicals) per meal or a keto bread replacement. But also keep your daily slices to a maximum of 4!
It was difficult for me (goodbye, traditional sandwiches!) but it's also something you will get used to.
Now, so many years after being diagnosed and reversing my condition, I can go for a few days without eating bread and usually I don't have more than 2 slices per day.
– Rice & Pasta is something that I used to eat often, but I found that I can live without them. I have an in-depth article covering eating rice with a fatty liver here.
While these are healthier than other options (at least before adding sauces and sides), they both have tons of carbs which are unhealthy for the liver.
While it's ideal to never have these again, I still ate both rice and pasta and managed to reverse my fatty liver. I had both in very small quantities, though, and just a few times per month.
Avoid highly processed rice and pasta and go for brown or ideally black rice (or wild rice) as well as whole grain pasta.
The less processed they are, the slower the release of carbs in your blood, making them healthier options and more nutritious.
Keep your portions small and don't make it a habit eating them. And always remember: it's better without having them at all – but if you can't really take them out of your diet completely, eat these on rare occasions and in small portions.
– Sugar: I have never used sugar in any type of food that I prepared at home since 2014. I have never bought sugar since being diagnosed and never used it. We don't need it in our diets!
You can read this article from Harvard University to learn why our bodies don't need any added sugar.
So completely eliminating sugar from your diet is completely doable, even though in some cases it will be VERY difficult (those cravings will hit you hard and often, especially early on). But again, it is something you will get used to!
We get enough sugars from fruits and the other foods that we eat, there is no reason to add extra! If you can completely eliminate it, it's perfect!
However, don't replace it with synthetic sweeteners as they are just as bad, if not worse. There are some sugar alternatives that you can use, but try to keep them at a minimum.
Note: I do get some unnecessary sugar when I sometimes eat out or when I decide to cheat with a bit of cake or something sweet or something unhealthy.
But overall I am feeding my body 95% less sugar than was before being diagnosed. And if I managed to do it, you can do it too!
– Other sweets are generally ignored too and kept for special occasions. I no longer eat sweets from the stores or confectionery (candies, cakes, chocolate and so on) and I only eat home made sweets without added sugars or with healthy alternatives such as stevia or maltitol.
All sweets are extremely bad for our health. The high content of carbs that sweets have does a lot of harm to our bodies – including the liver.
Add to that the fact that these sweets are usually a caloric bomb made of sugar and far (with little nutritious value) and you can see why you should never eat them again. Sure, this is ideal but probably impossible.
When I have a cheat day, I make sure to make it no less than two days per month when it comes to these complex sweets.
But sooner rather than later you will learn to go for the less sweet and unhealthy options and you will find the sweets you used to eat gross and horrible.
I am not counting fruits here, which, as I said, can be consumed multiple times per day and are actually a perfect desert – one you'll have to get used with actually!
– Alcohol is something that I don't drink at all. I've read many studies that claimed that alcohol is extremely dangerous for a fatty liver and even though there are some voices that still claim that a small drink every few days will do no harm, I am not willing to take the risk. Hopefully you are not willing to take this risk either!
Note: I have never drank, not even a sip of alcohol, since being diagnosed in 2014 and I don't plan to ever drink alcohol again to help my liver and general health as much as I can.
You can still live a happy life without it, including a social life. I wasn't a big drinker in the first place, but like most people out there I enjoyed drinking a glass or two of wine every now and then or had a few beers when going out.
Transitioning to never having alcohol at all was easier than I had initially thought. I also started drinking non-alcoholic beer (usually when going out, but not always) a year after reversing my NAFLD and it doesn't seem to have done any harm.
But I only did this AFTER reversing it and I am drinking this non-alcoholic beer in moderation (maybe a total of 4 per month, but I have many months when I have none).
– When it comes to beverages, I only drink water mostly, as well as tea and coffee. It appears that coffee actually helps the liver (according to several reports that I have read) but remember to drink it black or with as little sugar as possible, without any artificial flavorings or cream.
Freshly squeezed juices are a treat every now and then – but don't consider them healthy as they are just a lot of sugar since the most important part of the fruit (the puplp with healthy fiber) is gone.
Smoothies are fine, but I personally don't like them – if you do though, enjoy them! I also treat myself with sparkling water every now and then as a replacement for fizzy drinks, sodas and alcohol.
You can read my in-depth article on what to drink if you have a fatty liver.
How many times per day should you eat?
When you're following this fatty liver diet, it's best to eat five times per day, in smaller quantities. It's ideal to eat just the three main meals, but since it's going to be smaller portions, you will probably need the snacks too.
I have many days when I actually eat six times per day, like this:
– breakfast as soon as I wake up (which is sometime between 7 and 7:30)
– morning snack (at around 10:30)
– lunch (at 1 PM)
– afternoon snack (at around 4 PM)
– dinner (at 6 PM)
– sometimes a late snack at around 8 PM (I have managed to cut this out lately, but early on it was needed)
You can adapt this to your own schedule, of course. The golden rule of thumb here is to eat multiple times per day in order to reduce hunger (the hungrier you get and the longer this lasts, the easier it will be for you to break down and eat unhealthy).
Also, try to eat your last meal or snack at least 2 hours before sleeping.
If you are comfortable eating just the three main meals of the day, it's even better. You don't HAVE to eat the snacks, but if you are hungry (and most likely you will be!) it's best to have them. Always keep quantities in check though and never overeat. Which gets us to…
How much should you eat?
Portions should be small, but you don't have to eat like a supermodel that wants to lose even more weight.
If you are used to eating large portions, don't try to cut them down too much from day one because you might find it difficult to adapt and eventually break down.
Reduce portions slowly (make it a process that lasts a month, cutting a bit more every other day) until you reach the perfect amount for you.
Remember that you most likely have to lose weigh as well, and keep your weight in check afterwards.
It's a complete and permanent lifestyle change that we're talking about now that you have a fatty liver, so you'd better be prepared.
The key here is calories deficit: this is the one and only thing that you need to lose weight.
So if you need 2,000 calories per day to keep your healthy weight, try to eat around 1,500 – 1,700 calories per day. This will see you lose around half a kilogram (1.1 pounds) per week, which is a safe amount to lose.
During this time, you will also get used with the smaller portions (we usually eat a lot more than we actually need), and taking it slower will have the benefit of making it easier for you to stick to this.
If you're currently eating 4,000 calories and cut them to 2,000 per day, it will be a lot more difficult long term. So take it slow, let your body adjust, but set your goal and get there!
Also look into high volume, low calorie foods. These are foods that let you eat larger portions, but have few calories and are still healthy.
You can use these too during your transition period, but the main goal is to teach your body to adapt to small portion sizes.
You will naturally lose weight!
One of the things that I was advised to do after being diagnosed with a fatty liver was to lose weight.
When I started this diet, I weighted 210 lbs (I am a 5.11″ guy) and I have naturally lost weight without any extra exercise, and without starving.
I went down to 190 lbs in just three months and this was the reason why I haven't started exercising yet: you don't want to lose weight too fast, or you'll put extra pressure on your liver.
Please have in mind, though, that this fatty liver diet is not a weight loss diet. In my case, it helped a lot because I used to eat huge portions in the past and unhealthy foods.
Just switching to lower portions and eating completely healthy helped me lose weight, then stick to my new weight over the years. I was so surprised to see how much eating habits affect our weight!
Eventually though, you will reach a point where your weight loss will halt and if you're not at your ideal weight, you should start exercising to speed up the process and get there.
From personal experience, I can say that this happens after three months of changing to the Mediterranean diet and losing weight.
As soon as that happens, you should bring in exercise into your life. Exercising is extremely important, so do something extra even if it's just walking 8,000 steps per day.
The higher the intensity of your exercising, the better. Aim to exercise at least 3 times per week, ideally every day. Here as well you should take it slow and increase intensity every few days. Read more about exercising and fatty liver here.
Most likely, you will be extremely out of shape, so doing any of the more advanced programs will be impossible. Take it slow and your body will adjust. But persevere, never give up!
When I started exercising, I was only "running" on a treadmill three times per week.
However, I was so much out of shape that when I first started doing it, I was only able to run for about 3 minutes straight at a very low pace during my 45-minute session and only walk briskly for the rest.
But just a month later I was running almost half of the time (3-4 minutes running, 4-5 minutes of faster walking and so on).
Today, I can easily run, without taking a break, for 35 minutes straight (and I could probably do more if I wanted to). So take things slow, but be consistent: you will get there too! You just need time to adjust.
Is this fatty liver diet an easy one to follow?
From personal experience, I can honestly say that it's not easy. In my case, it came as a drastic change and cutting all those unhealthy foods was difficult. There were cravings, there were times when I just broke and ate a lot, feeling miserable afterward.
So probably you will find it a bit difficult too – there's no need to sugarcoat this. Be prepared!
Fortunately, the diet itself is really nice and allows you to try a huge variety of foods and dishes and you'll never get bored eating the same things over and over again.
The most difficult parts (at least in my case) are reducing the portion sizes, reducing the amount of fats and eliminating sugars (this was the hardest!).
I always used to have a cake or some candy around me before being diagnosed, and it's really difficult to put hem away. Looking back at this, it was probably one of the reasons why I developed a fatty liver in the first place.
Fortunately, you will soon get used with eating apples as desert instead of sugary sweets, so it's not a never-ending hell you're going to go through (but the first two weeks will be really tough!)
Fortunately, only the beginning of the race (which is actually a marathon) is difficult.
You will get used to this new life very soon and you will start to love all the foods you'll eat every day, even though there will be very low fat consumption and way fewer sugars than you were probably eating.
Actually, if you will taste any fried food a few months after switching to this diet, you will find it yucky and way too greasy for your liking.
The good part? It's all extremely healthy and you'll soon start to feel a lot better: you will feel less tired, you'll be happier, you'll even start appreciated different tastes that you didn't before.
These will come sooner or later – it varies from individual to individual – but they will come.
I think that you will start seeing improvements after the first month, but at the 6th month mark you will feel like another person (slimmer, healthier, full of energy) and no more pain under the right rib.
There is one important thing to have in mind: it probably took you years (if not decades) of eating unhealthy and becoming unfit to get where you are now.
You can't expect things to change in a week or a month. This also needs time – but fortunately not years or decades.
And after you will reverse your fatty liver, make sure to still stick to this Mediterranean diet.
Don't get back to old habits as your fatty liver can return easily. Stick to eating healthy, follow this balanced diet and you'll always feel good!
IMPORTANT: Don't forget to bookmark this page to be able to easily visit it in the future to make sure that you are indeed following the correct steps and eating the right things for your body. Or just PIN it using the image below:
There's a ton of information above so you might not remember it all after one read. So bookmark this article and visit it as often as needed and feel free to browse this blog: you will find a ton of useful information, all for free!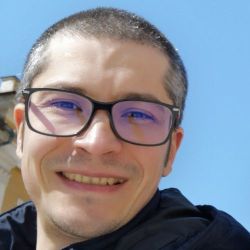 I was diagnosed with a fatty liver back in 2014 and managed to reverse it by mid 2015. Since then, I've been studying NAFLD and I have decided to share everything I have learned over the years to help you reverse your condition.
I am also the admin of the Fatty Liver Support Group on Facebook and the Fatty Liver Subreddit.