One of the question that I am asked most often by people diagnosed with a fatty liver is "What to eat?" In today's article, I will share with you some fatty liver dinner ideas and what to eat for dinner if you have NAFLD.
We have talked in the past about a recommended diet and I've even suggested breakfast, lunch and snack ideas for you (I'll offer links to those suggestions at the bottom of this article), but now it's time to look at what to eat for dinner if you have NAFLD / fatty liver.
For many people, especially if you're working, dinner becomes one of the most important meals of the day since lunch is usually served at work and is lighter.
However, when you have a fatty liver, dinner should be light as well and served 2.5 – 3 hours before going to bed.
If you are serving a light lunch instead and you don't get enough calories/nutrients otherwise, you can still keep dinner as the main meal of the day, but follow the same dieting principles and don't overdo it in terms of portion size or eating things you are not allowed to.
But for most cases, you can certainly check out my fatty liver lunch ideas as well since many – if not all – of the recommendations there could easily be turned into your dinner (while most of the recommendations below can be used for lunch as well!)
But in order to keep things varied and offer even more suggestions for those suffering of a fatty liver, here are some delicious and nutritious dinner ideas for fatty liver / NAFLD:
Homemade Hummus
I love hummus – it's the only way I can actually eat chickpeas and enjoy them. The best thing is that chickpeas are actually considered a great food for the liver, and with my homemade hummus recipe, you'll get a great dinner that you – and the entire family – will enjoy.
First, leave 1 cup of chickpeas in 4 cups of water over night (ideally, 12 hours). Throw the water away, rinse the chickpeas and transfer them in a large pot, then cover them with water (about 8-9 cups).
Bring to a boil, then reduce the heat to low and let them simmer until they are cooked – about 1 hour. Add more water if needed and stir occasionally.
When done, drain the chickpeas and transfer them to a food processor. Add 1 cup of the cooking water (add half a cup first, then add the rest if more is needed).
Puree the chickpeas, then add salt to taste (half a teaspoon to one teaspoon), 4 tablespoons tahini, 2 garlic cloves, the juice from half a lemon and half a teaspoon pepper flakes or paprika – you can add more if you want extra flavor. Puree again until you get your creamy hummus ready.
Transfer it to a bowl and enjoy it. You can sprinkle some extra paprika on top, but don't add any extra oil as the tahini itself holds enough fat and we don't need extra fat in our diets right now!
You can eat the hummus with whole wheat bread (homemade) or use various vegetables as a base: cucumber, zuchinni, green salad leaves, kale – anything that you enjoy!
Greek Salad
Quick, easy to make and delicious. Simply cut the vegetables (2 medium sized tomatoes, 1 cucumber, onion, half a ball pepper) and mix them with 7-8 kalamata olives, a bit of Feta cheese (don't add too much, though) and sprinkle with 1 tablespoon extra virgin olive oil. Easy tom ake, yet absolutely delicious!
When it comes to vegetable salads, you can simply go wild and have all combinations you can think of.
Just make sure that the dressing you are using is simple and home made, using only one or more of the following: olive oil, apple cider vinegar, balsamic vinegar, salt, pepper and mustard. No mayo and no store-bough stuff!
Tuna Salads
You can mix light tuna from a can with various vegetables and get some delicious salads in turn. Ideally, use tuna in Brine or water and not in oil. If you only have tuna in oil, drain the oil!
When I have more time on my hand, I prepare this tuna salad for the entire family (make sure you don't add any extra oil as it is not needed and leave the hard boiled eggs for the rest of the family).
Also, this one is really healthy and tastes great – plus it's easy to make. I would recommend, though, to skip adding the tahini as you don't need any extra fat (and it's still delicious)!
Minestrone Soup
Even though it's a soup we're talking about, it's a hearty dinner idea that tastes great and is surprisingly enjoyable. It fills you up pretty well, too!
You have to prepare this once and try it if you haven't done so already – I am sure you will fall in love with this Italian soup immediately! Here are the ingredients needed for about 6 servings:
– 2 large onions, chopped
– 2 cloves of garlic, minced
– 2 cups chopped celery
– 3 large carrots, diced
– 1 cup of green beans (cut in half an inch pieces)
– 1.5 cups kidney beans, dried
– 1 large bell pepper, diced
– 1 cup frozen peas
– 1 can diced tomatoes
– 2 cups tomato sauce (make sure it's 100% tomato content)
– 2 tablespoons fresh basil (or 1 teaspoon dried basil)
– 6 cups water
– salt to taste
– 1 tablespoon grated Parmesan cheese for topping
Add the onions, carrots and celery into a large stock pot and boil at medium heat in the 6 cups of water.
When the water starts to boil, add the green beans, bell pepper, frozen peas and diced tomatoes and let the soup boil for about 30 minutes. Add extra water if necessary: it needs to be thick, but not too thick, like a stew.
After 30 minutes, add the tomato sauce and basil then salt to taste. Let it simmer for 5-10 more minutes then add the garlic. Let it simmer for 5 more minutes (or longer if the vegetables are not cooked – but they should be by now).
When serving, add the Parmesan cheese over the Minestrone soup. It's absolutely delicious!
Note: you can make it even tastier by adding 1 cup of whole wheat cooked pasta, but I prefer not to in order to keep those carbs in check.
If you want to add it, add the cooked pasta (seashell or elbow pasta) at the end, when you add the garlic.
Chicken Vegetable Skillet
Add one teaspoon oil in a skilled and cook half a pound chicken cut into strips, on all sides until it gets brown and the juices are cleared.
Remove the chicken and keep warm in a bowl, then add in the same skillet 1 small chopped onion, half a cup chopped or minced carrots, 1 sliced zucchini and half a ball pepper (chopped) and cook for 5-10 minutes, until the vegetables are tender. If there's not enough liquid there, you can add 2 tablespoons of water.
When the vegetables are done, return chicken to the skillet, add salt and mix everything for one more minute before serving.
Spinach Quesadillas
I love Quesadillas and even though you shouldn't eat those too often since they're not really the best choice if you have a fatty liver, they are delicious and a lot better than regular Quesadillas. And they're easy to make too:
In a skillet, cook 4 cups of spinach, 4 chopped green onions (ore one regular onion, although the green ones are preferred), o large chopped tomato, the juice from half a lemon, 1 teaspoon cumin, a bit of garlic powder and salt (you might skip salt completely since you will add cheese later).
Cook and stir until spinach is wilted, then move to a bowl and add 1 cup of shredded cheese (whichever is your favorite).
You will get enough to fill 4-6 tortillas: simply place the spinach & cheese mixture on half of the tortilla, fold the other half over, then cook them for 2 minutes on each side on a griddle. Serve them immediately!
For the tortillas, always buy those made from whole wheat and with as little ingredients as possible. Tortillas are usually full of chemicals and preservatives and not healthy.
Beans Salad – Mediterranean Style
Quick and easy to make, you can basically add or remove any vegetables you want. I personally mix 1 can garbanzo beans with 1 can red beans (all drained and rinsed), 1 chopped tomato, half a red onion (chopped), the juice from half a lemon and 1 tablespoon extra virgin olive oil, plus salt to taste.
Sometimes, I go crazy and add 4 tablespoons sweet corn and mustard. You get 2-3 portions out of it and it's really good. You can also add all sorts of other greens if you want to.
Garlic Salmon with Vegetables
You will need a 2 lb salmon fillet, 2 tablespoons chopped parsley, 4 cloves of garlic (minced), 2 tablespoons water and salt (about half a teaspoon).
Place the salmon in a baking tray, on a baking sheet. Mix the parsley, garlic, salt and water and brush the mixture all over the salmon.
Preheat oven to 400 degrees (200 degrees Celsius) and cover the tray with a cap or aluminum foil.
Let it cook until the salmon is ready, for 15-20 minutes. You can remove the cover after 10-15 minutes and let the salmon for five more minutes if you prefer it to be darker and crispier. Serve with vegetables or just the salmon.
Other things to eat for dinner
If you want even more recipes for fatty liver, as well as a well laid out plan on how to reverse your fatty liver, make sure to check out my favorite program out there - The Fatty Liver Remedy. 
It is not free, but something you have to pay for, but it is complete and it will guide you through all the steps that you need to follow to reverse your fatty liver (and it includes over 180 liver-friendly recipes!).
The recommendations above are just some of the delicious options that you have when it comes to eating a fatty liver friendly dinner.
But there are even more options that you can create, following some of the principles below:
Eat a lot of vegetables and fruits. Make vegetables your main thing. Combine with whatever meat you enjoy, as long as it is lean: chicken breast is the best choice, but lean fish and lean pork meat can work every now and then.
Grilled chicken with grilled vegetables are always easy to make. Just grate a carrot for a salad and you're all set!
Just try to get creative and mix all the vegetables, rotating them in your diet so that you won't get bored eating the same thing over and over again.
That Greek Salad will be good when you first have it, but if eat it daily, it will get old. But if you have it once or twice per week, it remains enjoyable.
So as you can see, there are a lot of options that we have when it comes to eating a healthy, light and good for the liver dinner.
Do you want even more recipes and suggestions regarding what to eat if you have fatty liver? Check out more articles I've written:
– Breakfast Ideas
– Lunch Ideas
– Snack Ideas
– Meal plan for 7 days
– Christmas menu Ideas
This would be it! These are eight delicious dinner ideas for those diagnosed with a fatty liver.
They are healthy, safe to eat and offer variety in what we usually consider a very limited diet. As with all food consumed when having NAFLD, don't forget to eat with moderation!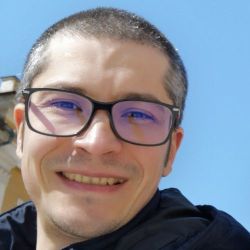 I was diagnosed with a fatty liver back in 2014 and managed to reverse it by mid 2015. Since then, I've been studying NAFLD and I have decided to share everything I have learned over the years to help you reverse your condition.
I am also the admin of the Fatty Liver Support Group on Facebook and the Fatty Liver Subreddit.