We have talked about the general dieting principles for fatty liver in a previous article, but even when you know exactly what you should eat and what you should avoid, you could still have trouble coming up with fatty liver friendly lunch ideas or meals in general.
But today, we're going to focus on what to eat for lunch if you have a fatty liver.
In order to help, I've decided to share with you a list of delicious, easy to prepare lunch ideas for those suffering of a NAFLD. I am a big fan of these dishes and I am sure you will love them too!
Even more, they manage to prove that you can still have a really varied diet even when following an apparently restrictive one to reverse fatty liver.
I have to mention one important thing, just to make sure: these fatty liver lunch ideas are for REAL food. In other words, food that you cook at home, not takeaway or ready made meals or anything else which are usually not recommended for fatty liver.
Cook your own food – that's the best way to make sure that the fat intake, carbs intake and nasty chemicals intake is under your control!
If you really have to buy food from a restaurant or takeaway, make sure you know exactly what's in it – because usually you'll get lots of unnecessary fats, added sugar and even preservatives and other chemicals, which are all big no-no's in our case.
If you want even more recipes for fatty liver, as well as a well laid out plan on how to reverse your fatty liver, make sure to check out my favorite program out there – The Fatty Liver Remedy.
It is not free, but something you have to pay for, but it is complete and it will guide you through all the steps that you need to follow to reverse your fatty liver (and it includes over 180 liver-friendly recipes!).
Now let's move on and let's check out some lunch ideas for fatty liver that will help you with your condition and which will surely prove that you can still eat good when on a strict diet!
Home Made Vegetable Soup
I try to eat soup every day: vegetable soup a couple of days, chicken soup (but made using low fat chicken – which means that I remove the skin and all the fat that I can see) for a couple more and so on.
Basically, any type of soup that you can think of and is low fat, low carb, is a great choice for lunch or dinner. (So, unfortunately not ramen or anything alike).
The advantage of soups is that they help you fill up faster and calories/fat gains are minimal especially if you prepare them at home.
You can go crazy and try all sorts of combinations here – sky's the limit – but remember to keep the fats as low as possible, and don't overdo it with potatoes, rice (always use brown or black if you have to!) or pasta.
One that I always prepare when lacking time uses these simple ingredients: 2 pounds (1 kg) of baby carrots, two whole onions (peeled), one medium celery (the root) and two medium potatoes cut in cubes.
Boil everything in 2.5 liters (85oz) of water, add a bit of salt, turmeric and fresh parsley before eating and you have a healthy, extremely low calorie soup on your hands! Best part? It's DELICIOUS!
As I said, you can mix any vegetables you like, you can create thicker broths by grinding a lot of vegetables together, you can make your own cream soup: the secret here is to only use vegetables and (only if needed) low fat meat. Nothing else!
Low fat Tuna Wrap
Many people don't believe me when I say that I eat a lot of Wraps for lunch – and I can still keep then low in fat and high in goodies for your health.
For my tuna wrap, I usually choose a whole-wheat wrap where I add 6 oz tuna (make sure it's in water, not oil), two teaspoons low fat yogurt (feels like mayo when you eat the wrap!), half a celery stalk, chopped, a handful of raw baby spinach leaves if I have them, half or a quarter of an onion, chopped and some fresh lemon juice. Delicious and healthy!
If you want to keep the bread away and reduce the calories a lot, you can use salad leaves instead of the whole wheat wrap. You will not feel the difference!
Low fat Chicken Wrap
Yup, you can even have a healthy, low fat chicken wrap that tastes delicious if tuna is not your thing!
I add in mine 1 cup of grilled chicken breast, two teaspoons low fat yogurt, 1/3 cup diced celery, a few tomato slices, a quarter of a chopped onion, a tablespoon mustard and two tablespoons ketchup with no added sugar.
You can add more vegetables if you want and combine them as you please (cucumber slices, red peppers, carrots and so on) and add all the condiments that you enjoy, but don't make it spicy! It's delicious!
NOTE: You can basically make your own wraps out of anything. Beans are good to mix up in there, avocado slices or guacamole… the options are endless here as long as you use low fat, no sugar, and foods you cook at home instead of wraps brought from the store!
Mediterranean Salad
You can eat salads that combine all sorts of vegetables, but here is my favorite, especially during the summer: one large tomato, 1 medium cucumber, half a red pepper, half an onion (or 1-2 spring onions) and a quarter cup white/feta cheese.
Sprinkle some salt and a bit of extra virgin olive oil, and you have a delicious salad! Optional: add several olives for some extra flavor!
Don't use anything else for dressing (maybe apple cider vinegar, which is really good for fatty liver) and you'll have a refreshing, amazing lunch that's fast to prepare.
Lentil Salad with Eggs
Sometimes I go a bit crazy and my lentils & Egg salad is the best you'll ever have for a change.
Add 1 cup of cooked lentils, 1 cup of fresh baby spinach, 1 poached egg, a quarter of an avocado, chopped and half a tomato, also chopped.
I usually mix everything in a terrible, delicious mess and eat them with one slice of whole wheat toast (although it's much better if you skip the toast completely and enjoy it as it is).
Eggplant Boats
An insanely delicious recipe that you will love. You need one eggplant – cut it in two then put it in the oven at 350 degrees. Let it cook for about 30 minutes.
While it does, prepare the filling: two large onions, chopped, should be "browned" in water (add just a bit of water first, keep stirring and add extra water as needed).
Finely chop a red pepper and add it near the onions, when they are well cooked (about 5 minutes) and let them cook for 5 more minutes.
Add a couple spoons of tomato paste (or half a cup 100% tomato juice) and let the flavors mix for 2 more minutes. Take the eggplants out and, using a spoon, get the cooked eggplant out, making sure that the jacket remains intact.
Mix it with the onions & peppers, then add the mixture back in the eggplant. Grate a bit of cheese on top and put it in the over at 400 degrees for 10 minutes. It's delicious!
Three-Bean Salad with Kale
Yup, we have a kale recipe here too! Mix 1/4 cup of black beans, 1/4 cup of white beans and 1/4 cup of kidney beans (all cooked, of course) with 1 cup kale ans squeeze half a lemon in.
Add some chopped onion if you enjoy it and a bit of extra virgin olive oil. Quick, delicious and healthy!
Quinoa with Beans
Mix half a cup cooked quinoa with 1/4 cup each black beans and corn kernels, 1 diced red pepper and, as always, you can add half an onion, chopped. It's as delicious as it is to say "Quinoa"!
Grilled Chicken Breast with green leaves salad
This is another type of food that is extremely easy to prepare and take away with you at work.
Just grill 0.45 pounds (200 grams) of chicken breast fillet on a skillet without any added oil or anything else, then serve it with a large green leaves salad: baby spinach and arugula is my go-to salad, but you can prepare any mix you have in mind.
Another good one is mixing fresh beetroot (which is great for fatty liver) with carrot and cabbage or even a bit of the Mediterranean salad I recommended above.
Sesame Zucchini Noodles
Even though not as filling by its own (making a soup a necessity), this is a recipe you can easily fall in love with. It's easy to make, but better to be served warm so not ideal for taking at work.
Just mix together 3 medium-sized zucchini (spiralized) with a quarter cup of fresh cilantro, chopped finely, 2 crushed cloves of garlic, 3 tablespoons of rice vinegar and 1 tablespoon sesame oil. Put the mixture into a pan and enjoy it while warm.
If the en up too mushy, you can bake the zucchini noodles in the oven before and mix them with all the ingredients afterwards, then eat them ASAP. Either way, the taste will be really good!
Buddha Bowl
These bowls have grown more and more popular and you have hundreds of potential combinations here. As a bonus, they're really easy to mix in a jar for example and bring to work.
My favorite is a Greek Buddha Bowl recipe that I found here. Avocados, Kalamata olives, tomatoes, cucumber, chicken… this bowl has everything you can wish for and is very healthy too!
Pin this for later!
Final words
This would be it for now in terms of recommended lunch ideas for fatty liver. As you can see, options are plenty and you can eat very varied meals as long as you keep fats under control and added sugars to zero.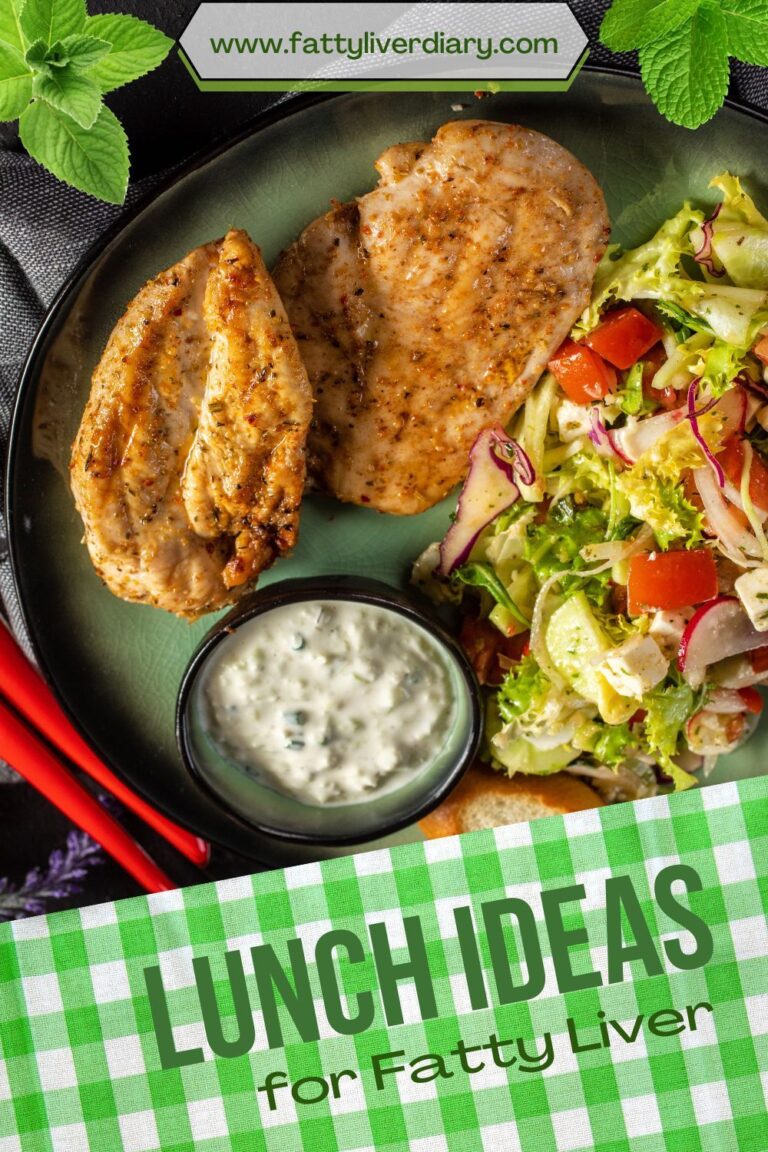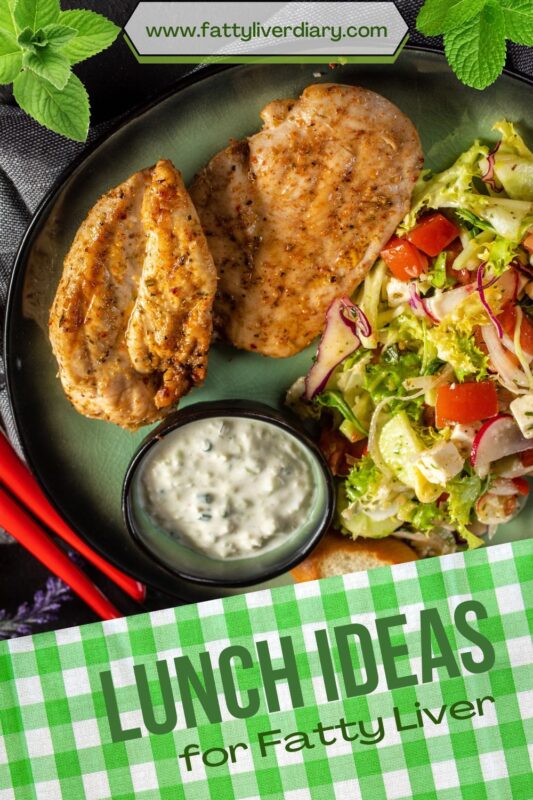 Want more eating suggestions? Check out other articles in the "what to eat for fatty liver" series below:
– Fatty liver Breakfast ideas
– Fatty liver Snack ideas
– Fatty liver Dinner ideas
– Christmas Menu ideas
You can really go wild and create your own using vegetables and low fat meats… sky's the limit, as I kept saying, and you can really have a nice, varied diet while getting your help back.
Do you have additional healthy options that you like to prepare for lunch? Share them all with us in the comments section below!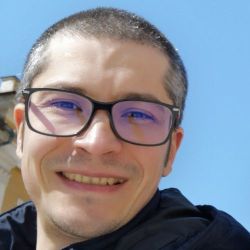 I was diagnosed with a fatty liver back in 2014 and managed to reverse it by mid-2015. Since then, I've been studying it,  continuously updating my knowledge with the latest scientific findings and practical approaches to give others the help they need to reverse their condition.
My approach to managing fatty liver is holistic, balancing scientifically-backed information with real-life, practical advice based on personal, direct experience.
I am also the admin of the Fatty Liver Support Group on Facebook and the Fatty Liver Subreddit.